It doesn't take long in playing The Sims before one realises that there are very few default build mode items which match the excellent Maxis default exterior brick walls - and, puzzling in itself, very few default floors. In the series "Maxis Matches", you will find several building items retextured from some of the Maxis wall textures to bring a little harmony into your homes. Not all of these items will be found in build mode; some will be found in buy mode / decorative, but all are architectural in style.

My second set is based on the "New Amsterdam" wall from the original game. I always loved to use this brick wall both indoors and outdoors, but could never match it up with anything for long and ended up changing it.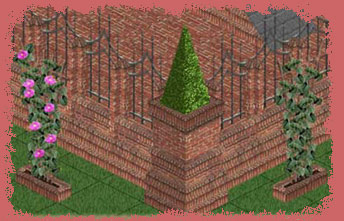 New Amsterdam floor, connecting fence with topiary corner, two backless trellis planters, topiary.

The planters never need watering as they were cloned from a sculpture. Find them in BuyMode/Decorative.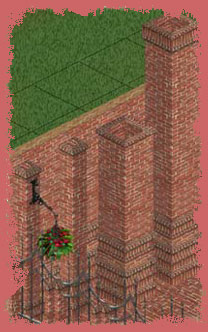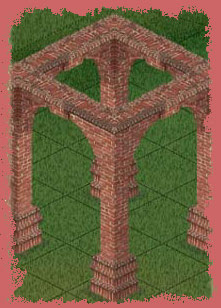 New Amsterdam pillar, chimney, two backless buttresses.
The wall buttress base object is again by Marina at the absolutely lovely Marina's Sims. The chimney (taller piece) is cloned from a statue so that it does not generate the automatic roof when used on a second floor. It sits on top of the pillar (use the CaroSims glass floor on top of the pillar) to make a tall chimneystack. The flowers on the buttress will never need watering.
New Amsterdam Pluto Arch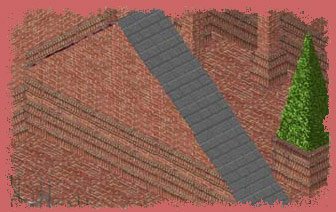 Droppable gable set
You can place the gables in any way you like to give the effect of a multi-storey building. Idea credit to Oph3lia - although I have modified mine somewhat so that they have all four views and can be placed against walls at any rotation. And thanks to Cooptwin, you won't see them when played with walls cutaway or down. See more of Cooptwin's work at Another #%*& Sim Site
These zips were rescued and have been kept safe by Genie and the fine folks at
N99's Preservation of Bandwidth Society
where they can still be requested, if ever needed.
Installation
Unzip to a temporary storage folder, and you must move the files accordingly as below (this assumes your game is installed on your C: drive's "Program Files" folder):
Files ending in .wll to C:\Program Files\Maxis\The Sims\GameData\Walls
Files ending in .flr to C:\Program Files\Maxis\The Sims\GameData\Floors
All other files ending in .iff to C:\Program Files\Maxis\The Sims\GameData\UserObjects
Recolouring
If you would like to redesign or recolor objects from the Mew Amsterdam set, please provide credit on your site and in the object description with a link back to us. Most recolours here are from base items from sites participating in the Recolourers Resource Project, but where I have had specific permission for an item to be cloned for this set, you will need to ask the same permissions from the original designer - these are as follows:
All links to the original site where I have made the recolour from are given.